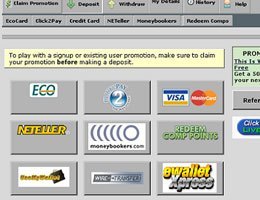 There are a number of ways you can make a deposit into your online casino account, depending on the method you choose to you. In general, there is vast range of different banking methods available to you, including credit cards, NETeller, bank drafts, UKash and Skrill.
You certainly don't need to be Einstein or even remotely understand money matters to make an online casino deposit. First you have to decide on the payment method you're going to use, then you need to confirm that the site in question accepts that particular method.
After you've created your account, you enter the 'cashier' or 'payment' option and click on the different links as prompted to enter the payment method details. The online casino will guide you from start to finish, and if you get stuck, you can always contact customer support with your question.
This process takes literally minutes and after the casino confirms that your account has been credited with the funds, you're on your way to some great, real money casino action.
One tip I can suggest: Look out whether the online casino is offering special bonuses on specific payment methods. Sometimes you can get great returns on your deposit simply by choosing one method over another! One time I couldn't decide whether to use my Neteller account or my credit card to pay for my fun, but my mind was made up for me when I learned that my favorite casino was giving a 20% bonus on all deposits made with Neteller!