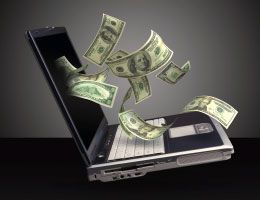 Once you have accumulated enough winnings in your online casino account, you'll want to withdraw them to enjoy the fruits of your labor! Withdrawing your winnings is really a simple process, similar to funding your account.
First you need to make sure that the sum in your account can actually be drawn. Some casinos specify certain wagering requirements before money can be withdrawn so check that out first. Once you've determined that you are able, go to the cashier at the site and request to withdraw the money. You will be asked to specify which banking method and after you have done so, the process begins.
Most of the good sites out there allow you to withdraw with the same banking method that you funded your account with, but it's worth checking which method best suits you.
The payment process should be quick and hassle-free, and you should see the money in your bank account in a short space of time. Some sites are better than others with the speed in which they do things and if it is important to you to get your winnings as soon as possible, check back with the site to see what their average payout time is, taking into account the concept of 'business days' and so forth.